THE ECONO HOODIE WITH SEGMENTED REFLECTIVE TAPE
Segmented reflective tape provides easy movement on the job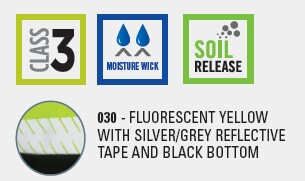 Meets ANSI 107-2020 Class 3 color standards
9.5 oz 100% spun polyester fleece
Lined self-material hood with drawstring. Oversized to fit headgear
The body has a generous cut for layering
Black bottom to reduce staining-on front only
Two front slash pockets
Moisture-wicking
Soil release properties to reduce staining
Full-length heavy-duty zipper
2" Silver segmented reflective tape
Colorfastness
Machine washable
Imported
Color: Neon Lime/Black
Sizes: S-5XL

865E The Econo Hoodie Sizing Chart
✔ Customizations are available on twelve (12) or more pieces.
✔ We can embroider, letter, apply patches, or custom design.
✔ Please call us at 800-759-3473 to discuss your needs.
Game Sportswear 865-E The Econo Hoodie with Segmented Reflective Tape
---
Available Options
Delivery/Shipping Availability: Item ships directly from manufacturer. Ships in approximately 1 week.
Related Products
Tags: Game Sportswear 865E The Econo Hoodie, Game, Game Sportswear, jackets, station jackets, stationwear, 865E, 865-E, Econo Hoodie, hoodie